Cacao with Kali Maa
August 30, 2020 @ 3:00 pm

-

7:00 pm

$75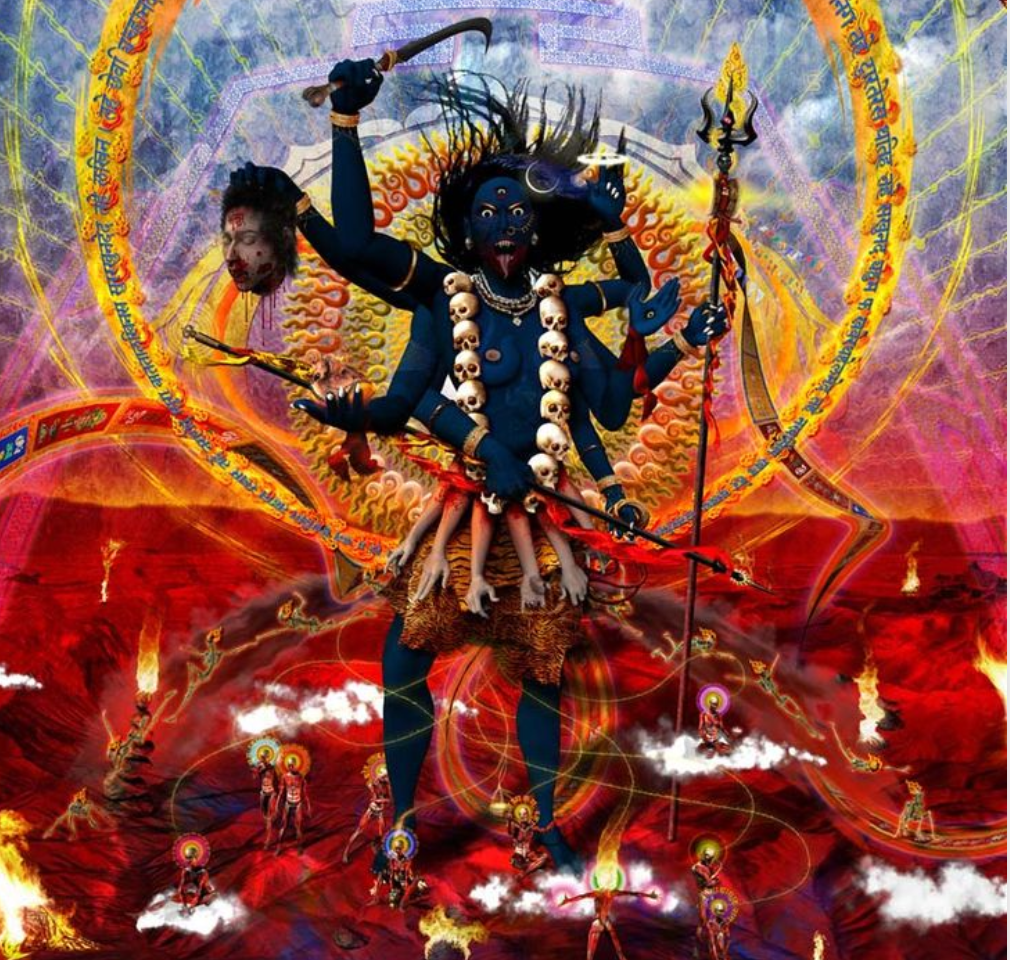 This is a deep dive evening for those who wish to experience the extraordinary essence of IXCacao combined with the fierce and loving energy of Kali Maa. The two energies balancing and harmonising together is a beautiful space to be held in. This is a deeply meditative and transformational event filled with Divine wonder and powerful shadow work. To walk with IXCacao is to be gently and lovingly guided back to your heart and into the state of loving bliss. To walk with Kali Maa is be shown the truth.
Combined with the intensity of the full moon, the power to let go and manifest will be great. We will be journeying into whatever stands in your way of bringing to life what you wish to manifest under this moon. So bring intentions and make them clear. We are journeying deep with Kali Maa and IXCacao.
Kali Maa is known as the black Madonna and is the most loving of all the Goddesses, she is the teller of the brutal truth, the liberator and the destroyer of ego and burns up the illusion. Working with Kali Maa is intensely beautiful. If you are drawn to this circle. Trust that. These circle are kept small to support this big energy work.
IXCacao is a symbol of fertility, abundance in all things and of course chocolate.. She is gentle and walks along side you, holding you wherever you may wish to go..
The evening will start with a smudging and cleansing as you enter sacred space. The circle will be opened and with full intent we will conduct traditional bay leaf fire ceremony. Bringing into our intentions.. what will we MANIFEST, CREATE, CALL IN TO BEING!!
Shannon uses full trance to work with these ancient energies. Listen with your Cacao filled heart. Listen to the call of the ancients.
What is it you long to have Divine guidance in?
Give yourself the gift of a powerful womens circle and transform something in your life, something in you.. almost like magic.
Shift with sisters by your side in a safe and nurturing environment.
Blessings, light and bravery.
• Avoid caffeine on the day of ceremony
• Dress comfortably. Pyjamas are completely acceptable.
• Bring your journal as you'll want to write down your insights.
DISCLAIMER
Please read the following terms and conditions, and refund policy before purchasing your ticket.
By purchasing a ticket you acknowledge and agree to the following;
The following conditions could be negatively impacted by sound therapy and must be discussed with your sound therapist.  It is your responsibility to advise us of any medical conditions or health concerns before undertaking this event and advise if you have any of the following:
– acute inflammations and tumours, or open wounds.
– pacemaker or defibrillator
– metallic implant or screws
– post-surgery before the sutures have been removed and the scar is not fully healed
– inflammatory skin disorders
– deep vein thrombosis in the leg or known thrombi
– cardiac pacemakers, artificial heart valves, or cardiac arrhythmias
– people with a stent or shunt
– people with a deep brain stimulation device (DBS)
– epileptics
– pregnant women (first 12 weeks of pregnancy)
Whilst Shamanic Heart Medicine takes the upmost care for your physical, emotional and spiritual well being. Please be aware that any physical symptoms you experience during and after must be attended to by your GP.
Shamanic Medicine, Reiki, NLP or Cacao does not replace your orthodox medical practitioners. It is a complimentary medicine.
I understand Shamanic Heart Medicine works strictly in the field of energy and plant medicine and any advice given is my responsibility to cross check with my GP and my personal medical history before applying.
I take full responsibility for my own well being during and after the event and or treatment.
This includes my mental health. If I feel unwell at any stage during or after the event I understand to contact my mental health professional.
After hours please call Lifeline:13 11 14
I will notify Shannon if I am pregnant and understand that Cacao contains caffeine.
I understand the recommended caffeine intake for pregnant women is 280mg(35gm of Cacao) per day and agree to a smaller serving Cacao to adhere to the current recommended guidelines.
I understand that the during Cacao ceremony I will consume
Cacao powder
Cacao paste
Cacao butter
Cayenne Pepper
Cinnamon
Raw Honey
Mesquite
Baobob
Lucuma
Nutmeg
Maca
(All organic and ethically harvested)
REFUND POLICY
We have a strict 'No Refund' policy with the purchase of each ticket. However, you can give your ticket to someone else for them to take your spot at the event dated on your ticket.